Back to Store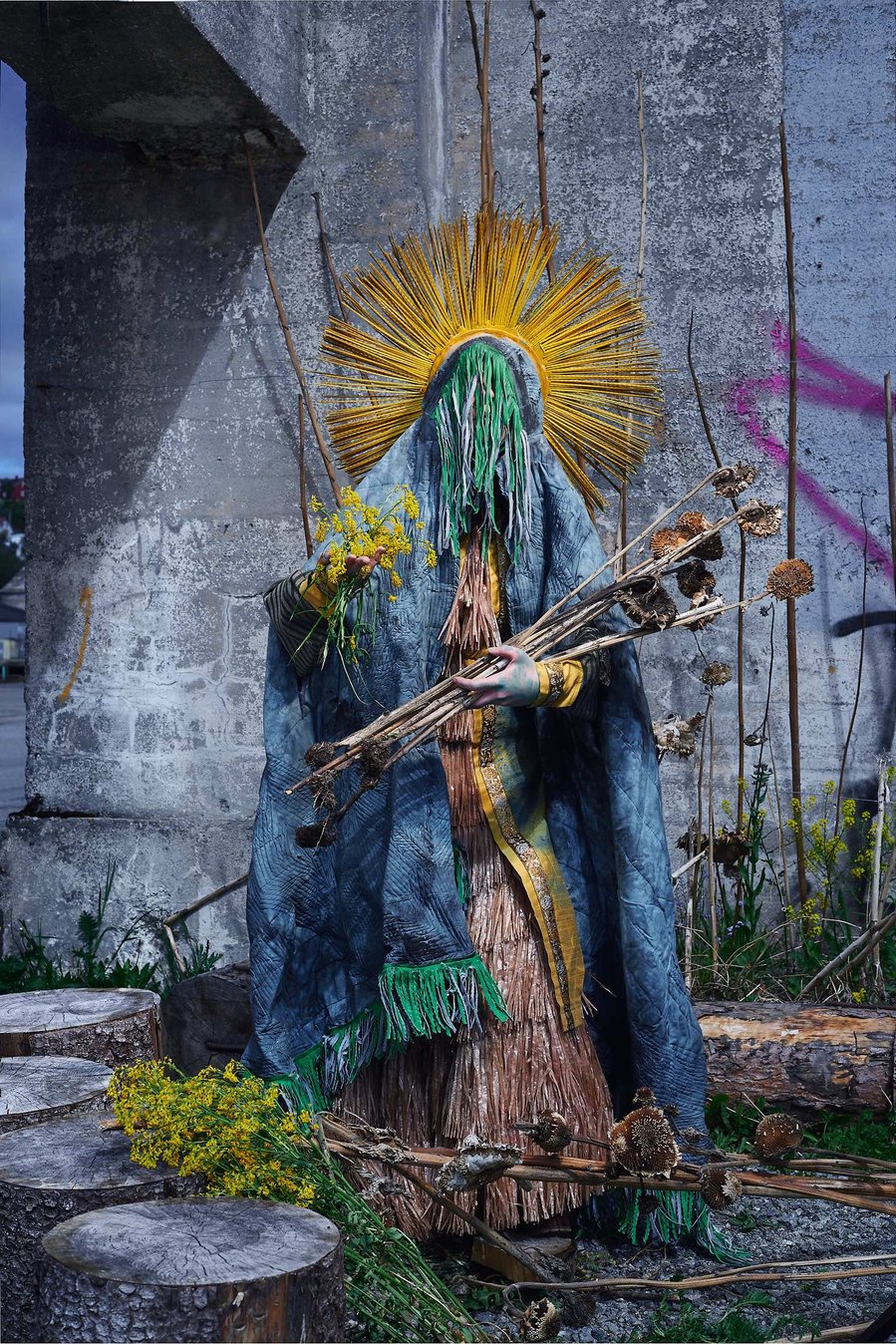 Ugrydde dager
kr5855.00 NOK
Shipping costs will be calculated at checkout.
Undawned days

The costume consists of:
Part 1: The cape of the nix, designed by JHT for EMAJPSIN (Fazlic Productions 2019). It is loosely based on T. Kittelsen's nix – if only it had come completely out of the water. The fringes are cut by hand, and quilt seams are sewn to give stiffness and texture to the patination.
Part 2: African wreath designed by JHT for EMAJIPSIN (Fazlic Productions 2019). This is a modified and patinated sweeper ring, found at Nyhavna after a long winter with street sweepers.
Part 3: Norn dress designed by BHW for Yggdrasil (Yggdrasil Theater 2020). The goal was to make something that was not human, not animal and not god, but something that was the same matter as the earth or the landscape. The solution was a beach umbrella from a local home decor store, de- and reassembled on a dress.
Part 4: Fullas Jacket designed by BHW for Yggdrasil (Yggdrasil Theater 2020). The jacket is for one of the principal goddesses, Frigg's, servants. Here, the main character acquires status in that the servants are also nicely dressed. The jacket is based on a thrift store discovery of a two-piece 70s party dress, reshaped and spray patinated. The expression of the performance lies in a kind of anime / historical / contemporary universe.
Limited edition print (20 of 54x81cm, 5 of 104x156cm). Printed with pigment ink (Epson) on fine art archival paper. Please consult your framer for optimal longevity under your circumstances. The print has a hologram badge in verso with a matching Certificate of Authenticity, signed by the artists (photographer and costume designers).
Not mounted. Shipped rolled (unmounted) in a robust packaging. The image is presented with a white border for ease of handling and mounting.

Price includes Art Tax 5%