Back to Store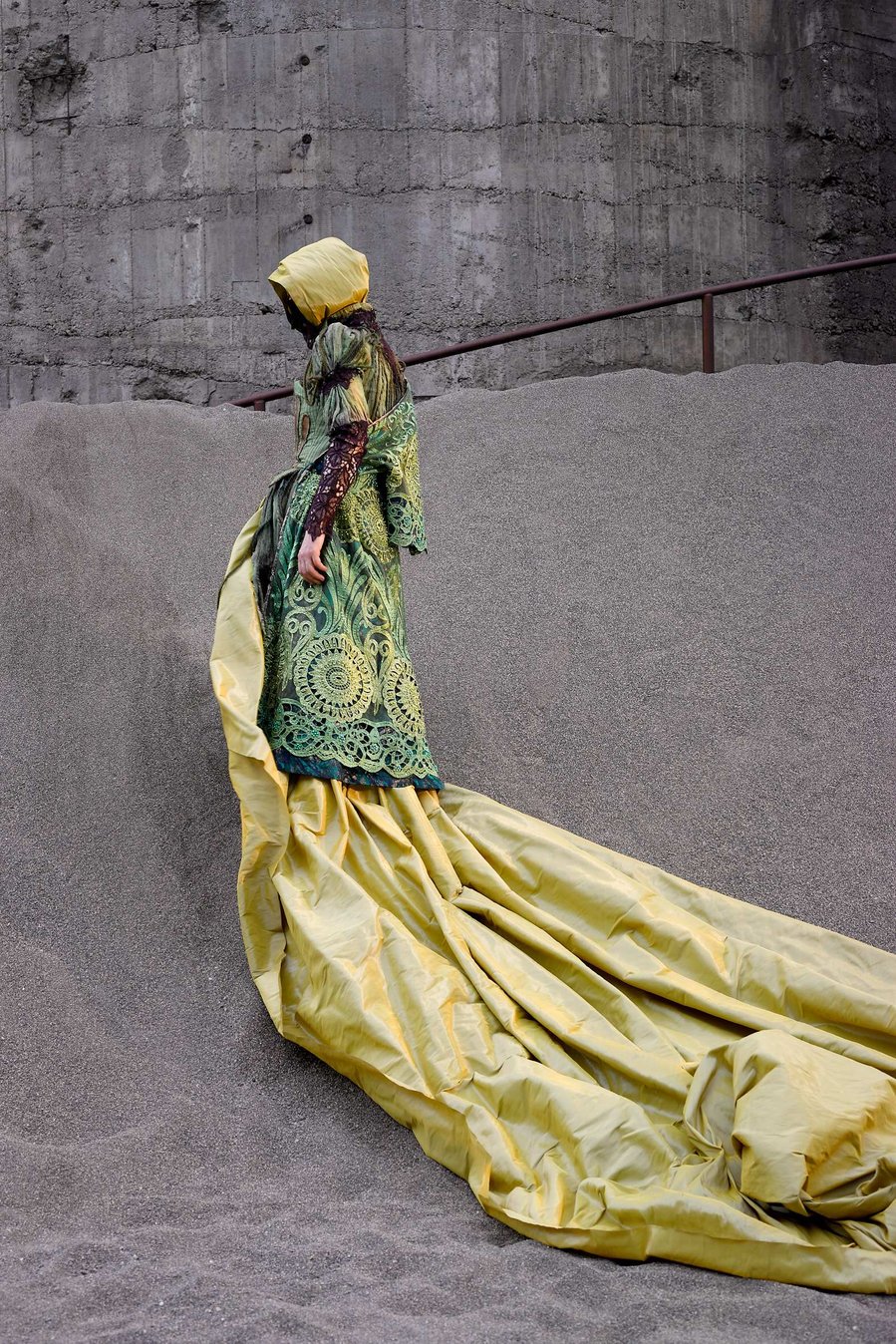 Mine lave ord er vindens
kr5855.00 NOK
Shipping costs will be calculated at checkout.
My silent words are the wind's

Part 1: Cloak designed by BHW for Frigg's arrival in the play Yggdrasil (Yggdrasil Theater 2020). When we first see her, she is covered in a giant cloak and comes walking across the beach. The main character, Aretha, does not understand who she is but understands that it is a woman of power.
Part 2: Frigg's jacket designed by BHW for Yggdrasil (Yggdrasil Theater 2020). The jacket is the most expensive in the entire production. At the base, it is a figure-hugging jacket in a jacquard-woven fabric with a metallic marble effect. Above is mounted a machine-embroidered tulle studded with synthetic pearls and stones. It is cut to size and applied by hand so that it will follow the shape of the jacket and appear "seamless"
Part 3: Coat designed by JHT for The Witch in Fårrå te skogs (Translation of Shakespeare's Into the woods, Rhubarb Theater 2016). Here, roots and branches are the main inspiration in the fabric's texture, lace and yarn.
Part 4: Corset designed by JHT for Miranda in The Tempest (LCF BA) 2007. The costume is created from leftovers from children's clothing and yarn, seagrass, fishing nets, sails, and rubbish.
Part 5: Shoes designed by BHW for the character Eowyn in the premiere show of "Another King" at the local cinema Trondheim Kino in 2003.
Part 6: Skirt designed by BHW for Dønnesrosen ("The rose of Dønnes", a local play 2019).
Limited edition print (20 of 54x81cm, 5 of 104x156cm). Printed with pigment ink (Epson) on fine art archival paper. Please consult your framer for optimal longevity under your circumstances. The print has a hologram badge in verso with a matching Certificate of Authenticity, signed by the artists (photographer and costume designers).

Not mounted. Shipped rolled (unmounted) in a robust packaging. The image is presented with a white border for ease of handling and mounting.

Price includes Art Tax 5%