Back to Store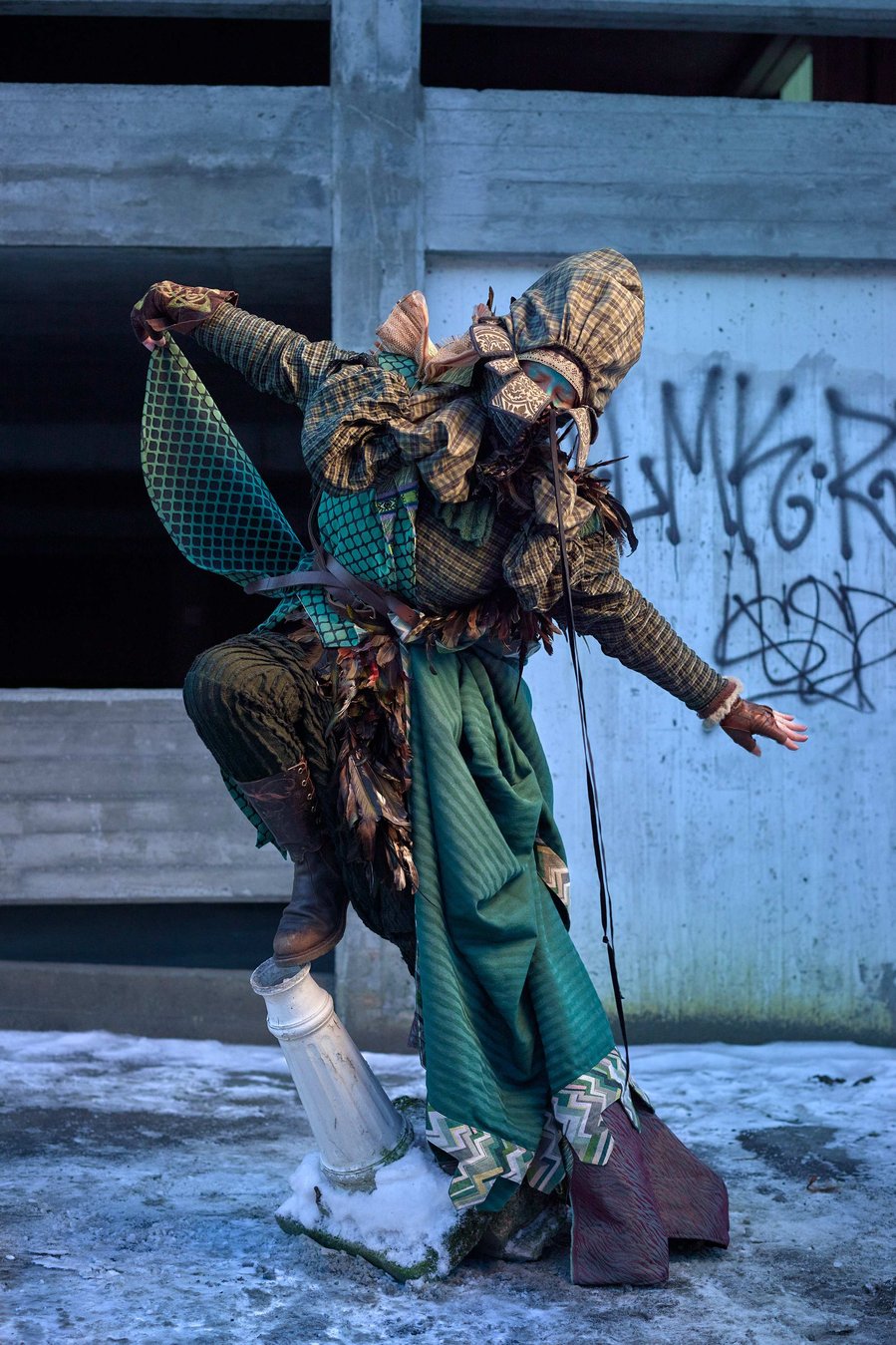 Jeg ville fange en fugl til deg
kr5855.00 NOK
Shipping costs will be calculated at checkout.
I wanted to catch you a bird
A little bird suddenly landed on a concrete twig between a thrift shop and a parking structure. It brought the scent of a woman from L'Avare of Moliére to what might soon become a square of the new neighbourhood. In the cold snow, the bird was called forth by our improvisation, seeking the warm light, the future and the song.
Part 1: Leather gloves designed by BHW for the character Eowyn in the premiere celebration of "Return of the King" at the local movie theatre Trondheim Kino in 2003. One of the oldest costume parts presented in this art project.
Part 2: Waistcoats designed by BHW for the main character in The Prince (Fabularium Produksjoner, 2021). When photography was taken, these were the newest costume parts produced. This image, then, stars the most extended timespan between fragments brought together.
Part 3: Feather outfit designed by BHW for Loke (Yggdrasil Teater 2020). In the Norse myths, Loke has stolen the feather garb of Frøya, giving him the power to fly. Her red colour can be glimpsed, but it has taken more of his acidic green hue.
Part 4: Boots designed by BHW for Loke (Yggdrasil Teater 2020). The boots don lindworms in the style of Urnes embossed on the shaft.
Part 5: Horse covering designed by BHW for Friggs unicorn (Yggdrasil Teater 2020).
Part 6: Old corset refreshed by BHW.
Part 7: The faun Tumnus' trousers designed by BHW. (Narnia, BUL in Nidaros 2015)
Limited edition print (20 of 54x81cm, 5 of 104x156cm). Printed with pigment ink (Epson) on fine art archival paper. Please consult your framer for optimal longevity under your circumstances. The print has a hologram badge in verso with a matching Certificate of Authenticity, signed by the artists (photographer and costume designers).

Not mounted. Shipped rolled (unmounted) in a robust packaging. The image is presented with a white border for ease of handling and mounting.

Price includes Art Tax 5%